Are you looking for an anti-hair loss treatment? Do you want to know what ingredients are essential in an alopecia preventive product? Would you like to create your own hair loss products?
Today we will talk about alopecia, one of the aesthetic issues that most worries people. The search for a miraculous treatment that solves all the symptoms that cause hair loss is being increasingly demanded, especially online; It is only necessary to see the increase that the hair transplant sector has suffered in recent years. We love dealing with our hair, taking care of it, giving it shape, color, it is like our own brand of identity, something we do not want to get rid of.
Our intention with this post is that at the end of it, the reader ends up knowing what ingredients are the right ones and what are the benefits they bring to anti-hair loss products, in this way you will be able to know which ones work, which ones do not and why.
If you are wanting to create your own line of anti-hair loss products, develop some type of treatment to improve the effects of alopecia, tell us your idea, from start to finish and we will develop a personalized action plan focused on your needs. With the advice of our experts you will be able to obtain the desired final product. Take advantage of the opportunity of one of the segments of the cosmetics in pure boom.
At MS Laboratories, third-party cosmetic manufacturers, we develop all kinds of products adapted to your needs and specifications, we offer speed of service, personalized packaging, label design, administration of regulatory papers for the creation of a brand, delivery of samples, high quality ingredients and immediate production thanks to our facilities.
We are going to save you some time by summarizing the specifications
that any anti-fall or prevention product should meet.
Let yourself be advised by one of our experts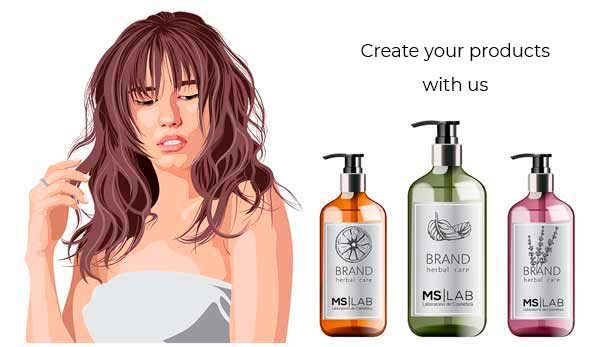 Every day we lose an average of between 50 and 100 hairs, this amount can increase during the spring and autumn periods. But if we begin to notice a fall greater than this size, it is time to start thinking about following some type of treatment to prevent it.
The main causes of both male and female alopecia are: Pollution, the stress we are subjected to, unhealthy habits, genetics, etc. Although not the only ones, there are many more and they always have to be supervised by specialists.
Whether in the form of shampoo or lotion, almost all cosmetic brands have a product that helps to stop hair loss.
Actives for anti-hair loss shampoo or lotion
Inistol: Activates the cellular functions of the scalp, stimulates growth, prevents early baldness and prevents hair lose.
Hydrolyzed DNA and RNA: Rich in nutrients that help protein synthesis, enhancing the regenerative capacity of hair and stimulating its growth.
Peptides: They are used to reverse the hair loss process as they allow direct action on DHT preventing the hair cycle from shortening and the number of acrive hair follicles from decreasing. In addition, they improve the proteins that surround the hair bulb, thus improving the anchoring of the hair to the scalp and stimulate hair growth.
Trace elements: They act as cofactors in important enzymatic reactions such as protein synthesis and cell reproduction. These are necessary to keep the scalp nourished, providing strength and vitality to hair, thus preventing hair loss.
Arginine: amino acid that favors the synthesis of NO, a vasodilator that improves irrigation of the scalp, thus providing more nutrients to the hair root
Sabal: It is obtained from the fruits of saw palmetto. It has properties to stop hair loss thanks to its androgenic activity that fights alopecia, helps reduce dandruff and hair oil.
Collagen: restores and regenerates hair, strengthens the hair follicle, preventing its weakening and subsequent fall. In addition to providing body and shine to the hair.
Placental protein: increases blood flow to the scalp, improving the supply of nutrients and its metabolism to the hair follicle. In this way, the hair regenerates and stimulates its growth.