Develop your own tattoo cream
Do you have a tattoo parlor and would like to sell your own repair cream?
This is the perfect opportunity to grow your business, extend your brand and build customer loyalty. Offering in your salon the additional service of post-tattoo skin care will give an image of trust and commitment towards the client on the part of the tattoo artist.
One of the moments that most worries all of us who have tattooed us is the time interval between the completion of the tattoo until the complete cure, it is a very important moment and sometimes, it can be the difference between a good and a bad tattoo. In the market there are many products and many brands that cover the problem, but we never fully know their composition, if they work, if they are harmful in the long run, etc. All this can change thanks to the opportunity we offer to create your own personalized post-tattoo treatment, you will mark the composition and in this way you can ensure that the contents of the bottle are safe and suitable for your clients.
To do this, we will make things easier for you and talk about the best ingredients that any tattoo cream should include.
At MS Private Labels we offer the service of developing your own products in a unique and personalized way, we are a cosmetic laboratory with more than 30 years of experience in the sector.Our difference lies in the quality of the materials we use to make cosmetic products. We do not have a traditional catalog, it is the client who chooses the composition of the formula, always advised by our R&D experts; made to measure and exclusive, only our client will have it. You can also choose the packaging, with our marketing team you can design the label.
Contact us and one of our experts will contact you to offer
you personalized advice
Send an email to: comunicacion@mslinea.com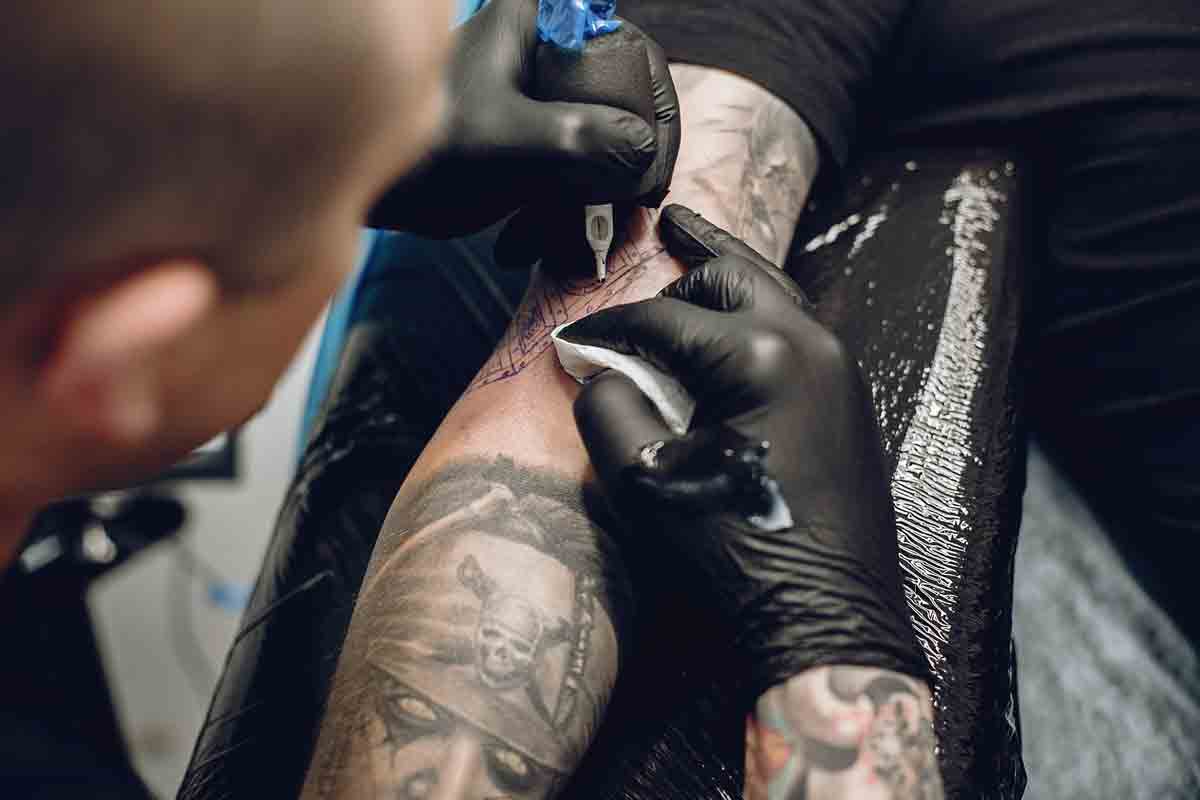 We must bear in mind that to achieve the result we want, we must give the skin extra hydration and increase its natural regeneration, without infecting our skin and leaving an appearance free of marks that could displease the tattoo.
We all know the basic care to treat a tattoo:
Leave the bandage on for 2 to 12 hours.

Let it air dry

Avoid submerging the tattoo

Do not expose it to the sun

Don't scratch your tattoo

Wash it carefully

Etc
But without a doubt and with what we have been announcing is the most important step, the application of a tattoo ointment, this product must offer specific characteristics in order to show adequate results.
In this is the list you will find which are the best ingredients and their characteristics to be able to create a tattoo cream suitable for the subsequent treatment and get your clients to leave completely satisfied.
Panthenol: reinforces the skin barrier of flaky and dehydrated skin due to the extra hydration it provides. In addition, it calms irritation and reduces inflammatory processes in sensitive or irritated skin.

Asiatic spark: promotes tissue regeneration and stimulates the activation of fibroblasts, responsible for the production of collagen, thus improving the appearance of stretch marks and the elasticity of the skin.

Aloe Vera: It is very effective in regenerating the skin. Its soothing and refreshing effect helps to hydrate the skin, preventing transepidermal water loss.
Calendula: strengthens and repairs the skin barrier and is ideal for soothing irritated and sensitive skin.
Rosehip Oil: Its moisturizing and emollient properties retain moisture and prevent dehydration of the skin. It is an excellent cell regenerator that is used to treat damaged and photoaged skin.
Shea Butter: has protective and moisturizing properties thanks to its content of oleic acid and vitamins A and E, which keep the skin nourished, hydrated and regenerated.
Argan Oil: Hydrates and nourishes the skin. Provides elasticity, softness and shine to the skin.
Jojoba Oil: Has regenerating, moisturizing and emollient properties, leaving the skin exceptionally soft and nourished.
Sweet almond oil: rich in vitamins and fatty acids, responsible for hydration and nutrition of the skin. It also supports skin elasticity and is ideal for damaged or dry skin that needs additional nutrition and hydration.
Chamomile: has soothing and anti-inflammatory properties, thanks to its bisabolol content, making it ideal for sensitive or / and irritated skin to relieve redness and soothe irritation.
Hemp Oil: It is ideal for very dry and mature skin due to its regenerative and antioxidant power. In addition, it promotes cell renewal and forms a protective barrier for the skin. Its anti-inflammatory effect helps soothe irritated skin.
We have different options: creams, balms, lotions, etc.
Resume
Create a second line of business where new income will come in. It is a very good way to do marketing, any product will make your brand known and external people will see it and you would gain recognition. In addition, you will satisfy more needs of your customers, satisfied customer returns and / or recommends you for sure.
Choose the ingredients, let yourself be advised by our experts, it does not matter if you have previous knowledge or not about tattoo creams, we will help you throughout the process. Production and packaging of the product, creation of the label and choice of packaging.