Who doesn't want their curls to look natural, healthy, and bouncy?
Well, today we bring you the method that has revolutionized the cosmetic sector, which little by little has been gaining followers and which meets all the requirements specified by the community.
It all started when Lorraine Massey detailed in her book Curly Girl The Handbook a new method on how to obtain defined and healthy curls naturally, the dream of anyone with such hair.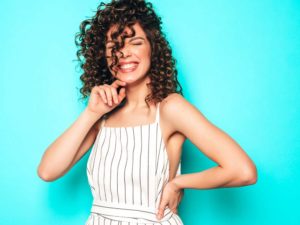 This method has been gaining strength in recent years to create a large community of people who follow and advise it, obtaining almost miraculous results.
In MS Línea Propias SL, cosmetics to third parties, we will present everything about the Curly Girl Method, how to learn how to use it as a guide and the benefits it brings.
Cosmetic manufacturers trained to offer any of the types of products that we will see below between 3 – 4 weeks, 100% personalized and from 1,000 units.
If you are interested in creating your own cosmetic brand, with a wide variety of natural products, please contact us at: comunicacion@mslinea.com
Before starting
Before applying this method, we must clean the hair with a purifying shampoo, which in this case may contain sulfate, to remove all remaining residues, such as silicone, in our hair. This should be applied during the first week, once this process is finished we will put aside all cosmetic products with sulfate.
Results may take about 3 to 4 weeks to appear, depending on the person and the desired end result.
Shampoos
We start by replacing all shampoos with those whose formulation does not contain sulfates or silicones. This step is of vital importance since if we cannot remove the shampoos with these conditions, we will never achieve the result we want and the steps that we will show below will be of no use.
With them we will achieve a deep cleaning, respecting the scalp without removing the natural oils from the hair
App:
Distribute all over wet hair. Gently massage after application and rinse with water.
Hydration
To reinforce hydration we will use masks.
Curly hairs tend to dry more easily and are more frizzy, so good hydration is essential, with a mask we will be able to deeply hydrate, repair, detangle, control frizz and reduce dryness, leaving our curls soft, shiny, with more mobility and definition.
It is true that lately a new variant of this method, the Co-Wash, has gained a lot of strength, it is about washing the hair from time to time only with the mask, that is, without shampoo.
App:
Apply to washed and wet hair, if possible use a wide tooth comb or your fingers to distribute evenly from roots to ends. Leave on for 5 to 30 minutes, depending on the hair of each person and the result you want to obtain.
Leave in
If we want to give our curls softness without weighing it down, with a revitalized appearance, we must apply a styling cream product.
App:
Apply after washing, previously removing moisture with a towel with gentle touches, without rubbing the hair and without rinsing completely. Air-dry hair or apply a curl enhancer, next step, depending on each person.
Curl enhancer
We reached the final step of the Curly Girl Method.
In order to give the shape of a good, strong, forceful and natural curl, a product that enhances the curls is necessary, to provide a soft fixation without leaving a sticky or heavy curl.
App:
Apply after using the styling cream and with the hair still damp, shaping the curl with your hands, air drying or using a diffuser at a low temperature.
Drying and brushing
We advise not to treat the curls dry and to do it when they are wet. Shape with your hands or with a wide tooth comb.
What works best for drying is in the open air, but if it is necessary to use the diffuser at a very low temperature.