For some time now, the great boom in Korean cosmetics has spread around the world with more and more admirers and it is very normal, it only takes a quick look at the skin of Korean women to realize how extremely careful and perfect they have it.
They have to have some trick and for a long time it has been a term quite present in social networks, today from MS Laboratory we will present you the routine that must be followed with cosmetic products to achieve a skin like Korean.
It consists of 10 steps, creating layers, applying one product over another, starting with the lightest. We know that at first this great multitude of steps can be scary, but the results are incredible, it must also be said that the routine has to be adapted to your skin and the moments, and some steps can be avoided.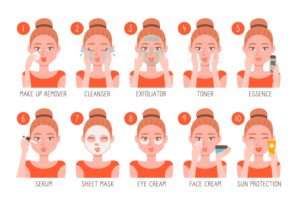 Oil-based cleaner
Removes greasy residues from the skin: makeup, sun cream, pollution, etc.
Water-based cleaner
Finish removing the deepest dirt from your pores.
Exfoliation
Eliminates dead cells, Korean scrubs are less aggressive than western ones and these can be used daily both day and night, the others with 1 time a week is enough and preferably at night, since these types of Cosmetic products tend to irritate the skin a lot and it is better not to expose it to the sun.
Tonic
Maintains pH, deepens cleansing, and prevents blemishes.
Essence
Moisturizes, increases elasticity and firms the skin. One of the most important steps for Korean women is rapid absorption.
Serum
Treats skin blemishes: signs of age, blemishes, dehydration, acne, etc. Thanks to its active principles.
Mask
It hydrates in a more effective way, by taking the shape of the face and not letting its nutrients evaporate, it also prevents wrinkles and soothes.
Eye contour
Moisturizes the most delicate and fine skin, the one around your eyes, and offers elasticity to prevent aging, reduces dark circles, bags, etc.
Moisturizing
It seals the humidity of the products that were previously applied, for that reason it is the penultimate step.
Sunscreen
Protects the skin from the sun and its negative effects such as wrinkles, spots, irritation, etc. This step is vital for any routine and can be used throughout the day.
All these steps can be separated between morning and night, it depends on the products and the person, instead of all in the same period of the day.
At MS Laboratorio, private label cosmetic manufacturers, we have facilities that are capable of making any of these cosmetic products in a customizable and tailored way for each client, we work from 1,000 units.
Take a look at our cosmetic lab for a deeper insight into our cosmetic manufacturing process.