We are all aware the benefits of a good diet for our bodies. More and more people are paying special attention to food and how it affects us.
This is where the term Superfoods in cosmetics comes in.
Superfoods are energy-producing foods that contain large doses of antioxidants, polyphenols, vitamins and minerals.
This new name refers to the combination of food and personal care, where the active ingredients of the nutrients are extracted and used to the maximum possible advantage in order to obtain a greater benefit in cosmetic products.
What are superfoods for?
When we talk about a healthy diet, it is very complex that it is 100% adapted to our organism for several reasons: we are not nutritional specialists, we do not respond adequately to the changes that we may suffer, the effects of external agents, ageing, etc.
To optimise this performance we need to combine it with natural cosmetics that give us that extra that we really need at key moments.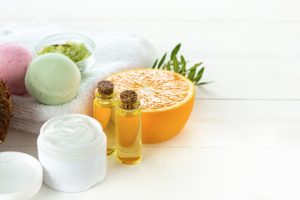 In MS Laboratorio we work every day to be able to offer cosmetic products adapted to the new needs of our clients, we manufacture cosmetics for third parties and can be oriented to the benefits that some foods provide in personal care.
Some of the superfoods we are currently working with are: kale, chia, cucumber, melon, watermelon, lemon, orange, goji, açai, honey, turmeric, ginger, grapefruit, mango, pomegranate, strawberry, raspberry, blackberry, etc.
The benefits of some of these products are:
Kale: rich in antioxidants, beta carotene, vitamin C and K, calcium and iron.
Honey: reduces metabolic stress, restores the sleep cycle, regulates the digestive system, improves brain function and moisturises the skin.
Açai: rejuvenating properties, purifying, strengthens the immune system, fights cholesterol.
Turmeric: prevents cardiovascular diseases, antioxidant effect, useful for joint pain and rheumatoid arthritis, purifies the liver and increases bile production.