In most homes we have a jar of honey that we use for gastronomic purposes because of its flavor and its beneficial properties in our body.
There are different types of honey: chestnut, acacia, linden, floral, etc. But without a doubt the one that brings the greatest benefit to our body is manuka honey, known as "liquid gold" due to its high price in some countries, it is a superfood, we talked about it in a previous post, which stands out for its antibacterial and healing.
Thanks to its properties, cosmetic factories have begun to use it for the manufacture of cosmetic products and it is gaining more and more importance within the sector.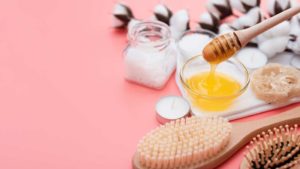 What is it that makes it better than the others?
It has nutritional, antimicrobial, anti-inflammatory and regenerating properties of the skin.
In its composition it stands out:
Methylglyoxal, a powerful antimicrobial agent that helps control acne-prone skin.
Sugars that act as natural moisturizers and help to blur wrinkles, delaying premature skin aging.
Amino acids that help regenerate the skin, reduce inflammation of irritated skin and improve acne blemishes.
Glycolic acid, which improves epidermal cell renewal.
Moisturizing, both on skin and hair.
Manuka honey is obtained from the nectar of trees of the Leptospermum Scoparium species, which are endemic to New Zealand and southeastern Australia.
When we talk about natural cosmetics, this ingredient must be taken into account, that is why at MS Lineas SL, as international cosmetic manufacturers, we produce customized and personalized cosmetic products with manuka honey.
If you are interested in creating this type of product, contact us: comunicacion@mslinea.com