We live in an era where we encounter: mass productions, junk foods, trending fashions, fast-paced news, stress at work, constant notifications on smartphones… and much more! It seems that we have caught a pace too high to be able to stop to take a break and appreciate life.
We are ignoring the signs and we have been forced to follow this rhythm because that is how most move, wanting to get out of this lifestyle is almost like rowing against the current.
It is precisely at this moment where the term slow beauty was born in the cosmetics sector, to try to break with all the unbridled rhythms created so far.
This movement is about obtaining personal care with routines in which we enjoy more, without haste, with the use of natural cosmetics and without ingredients that are harmful to the environment.
What is Slow Beauty?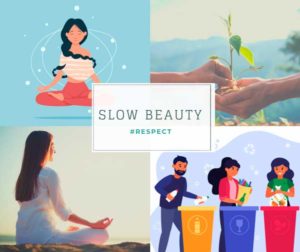 It is a philosophy with which to face your personal care routine, which invites us to opt for the route of cosmetic products natural, cruelty-free, moving away from mass productions and respectful with the environment. A routine with fewer products, but higher quality for us and our planet.
At Ms Línea Propias SL, a cosmetics laboratory, we have incorporated this new attitude into our company, being able to offer personalized cosmetic products to third parties adapted to Slow Beauty, in a personalized way, and our client can choose the formula that best suits their needs.
Manufacturers of cosmetics from 1,000 units.
We can offer:
Natural ingredients such as: vegetable extracts of plants and fruits, vegetable oils …
They will be able to facilitate the contribution of the necessary nutrients from a natural and vegetable origin.
Relaxing products:
Nothing better than relaxation as a procedure to enjoy our surroundings.
You can choose ingredients such as: essential oils, heating agents …
Which can be used in aromatherapy to produce a feeling of relaxation and well-being. Also hot and cold agents to awaken sensations on the skin during the application process.
Respectful with the environment:
If we want to find the way to a less disconcerting future than the one that awaits right now, we have to take care of the environment.
We look for ingredients that certify that care for the environment is taken during the manufacturing process.
If you are interested in creating your own brand of products or want to bring your cosmetic production with us, you can contact us through: info@mslinea.com