Unique and exclusive fragrances: create your own perfume brand
Develop the Identity and Personality of Your Fragrance Brand
Research Your Competition and Find Your Market Niche
Find Your Fragrance Formula: Unique Olfactory Representations
Select the Main Ingredients for Your Perfume
Choose the Perfect Packaging to Create Your Brand's Fragrance
Establish Marketing Strategies and Distribution Channels
Evolution and Adaptation in the Perfume Industry
In the fragrance and perfume sector, introducing a new product can seem like a daunting task. However, if you develop the right strategy and create an attractive formulation, you can carve out a niche among your main competitors.
At MS Lab, we can help you create the perfume of your dreams. We manufacture perfumes for others, creating a high-end formula and taking care of the entire post-process, such as packaging design, logistics, and documentation, among other aspects.
Trust our laboratory to design a unique and exclusive fragrance. We use high-quality and sustainable ingredients to care for and preserve the environment and not harm animals. Collaborate with us to create a high-end perfume that can conquer the most demanding consumers.
1. Develop the Identity and Personality of Your Fragrance Brand
To develop a unique perfume brand, you must establish a strategic and creative approach. First, conduct market research that includes the following points:
– Identify consumer preferences.
– Analyze current trends in the perfume industry.
– Observe the actions and strategies of your competitors.
Also, we recommend that you clearly define your brand's value proposition, that is, consider what makes your product different and special. Is it a sustainable and vegan perfume? Or, is the origin of the ingredients exclusive and natural?
Secondly, choose the name for your perfume. Take all the time you need, as this decision is crucial when presenting your product to consumers. If you're not sure what name to give your perfume, we recommend brainstorming with your team.
Think about the characteristics and qualities that best define your product, the target audience, their personality, the elements that inspired its creation…
And remember, the design of the packaging and visual branding should be consistent with the personality of the fragrance: use a color palette, typography, and logo that reinforce the brand identity. It's essential that each user interaction with the product aligns with the brand identity, from advertising to the in-store experience and the use of the perfume.
2. Research Your Competition and Find Your Market Niche
When you decide to create a brand from scratch or a new product, you face a series of questions that you don't know if you can successfully address. However, for this process to be effective, one of the most important steps is to develop market and niche research.
As we have already mentioned, one of the main points is to research your competition, analyze consumer preferences, and understand the dominant market trends. This will help you clarify ideas on how to act and create strategies to market your perfume.
Study the demographics, buying behavior, and tastes of your target audience.
Each step in the creation process of your fragrance is crucial to conquering the audience and standing out against competitors. We will provide you with a series of guidelines to conduct successful market research:
– Identify a specific market niche and try to stick to it. For example, you can focus on natural, sustainable, or even personalized fragrances.
– Conduct surveys or online research to discover consumer preferences.
– Investigate the seasonality of scents, trends, and growth opportunities.
– Study your competitors' marketing strategies: check what they offer, how they market their products, and their value proposition.
Once you have completed this research, you can define your approach, from the type of perfume you want to manufacture to the product design and marketing strategy.
3. Choose Your Fragrance Formula: Unique Olfactory Representations
Do you already know what your perfume will be like? The ingredients and composition it will have? We recommend that you carefully think about the elements you will include in your fragrance formula, as these will define the final characteristics and properties of your product's scent.
The first step would be to think about and choose the ingredients for your perfume: essential oils, synthetic compounds, and fixatives. It is very important to be clear about the components you want to add to the formula, but if you have doubts and are not sure how to choose the right ones, don't worry because we can take care of this process for you.
We understand that most of our clients do not have knowledge in chemistry or formulations, so that's what we are here for. Our technical team will guide you to find the perfect combination for your base requirements.
4. Select the Main Ingredients for Your Perfume
The selection of ingredients is essential, as these components will define the qualities and quality of the perfume. You can always inform and advise yourself on which might be the most important to include, but we recommend that you put yourself in the hands of experts to define the perfect formulation.
At MS Laboratories, we have helped countless clients create the blend that captivates the senses of all consumers. First, it is necessary to understand that within the olfactory pyramid, there are different notes: top, heart, and base. Each of them has different characteristics and properties that make them unique.
That's why we invite you to try other perfumes so you can decide better based on your experience and knowledge. Also, consider the type of product you will manufacture: perfume, eau de parfum, eau de cologne, or eau de toilette. Each of these formulations has a different type of formulation and characteristics.
In our laboratory, we develop these types of fragrances together with our clients. We are together and united throughout the entire creation process to develop a perfume with a unique and indisputable aroma.
5. Choose the Perfect Packaging to Create Your Brand's Fragrance
The packaging of a product may seem like a minor detail, but it is not. This is a crucial component that defines the identity and appeal of the perfume. You can start by evaluating the different factors that influence the selection of the packaging, such as its shape, material, and functionality.
These elements are basic and essential to determine the final result of the packaging:
– The shape should be aesthetic and ergonomic to hold the fragrance comfortably and practically.
– The material must preserve the fragrance and be attractive at first glance. For example, you can use glass, crystal, or high-quality plastic to convey luxury and sophistication.
– Consider making a practical package, looking for caps or spray systems that ensure easy application and better preservation of the perfume.
Do not forget to personalize the packaging of your product as much as possible, as this is a distinctive sign of a strong and powerful brand. You can design an exclusive design, different labels, or personalized details that reflect the identity of your brand and establish a strong connection with consumers.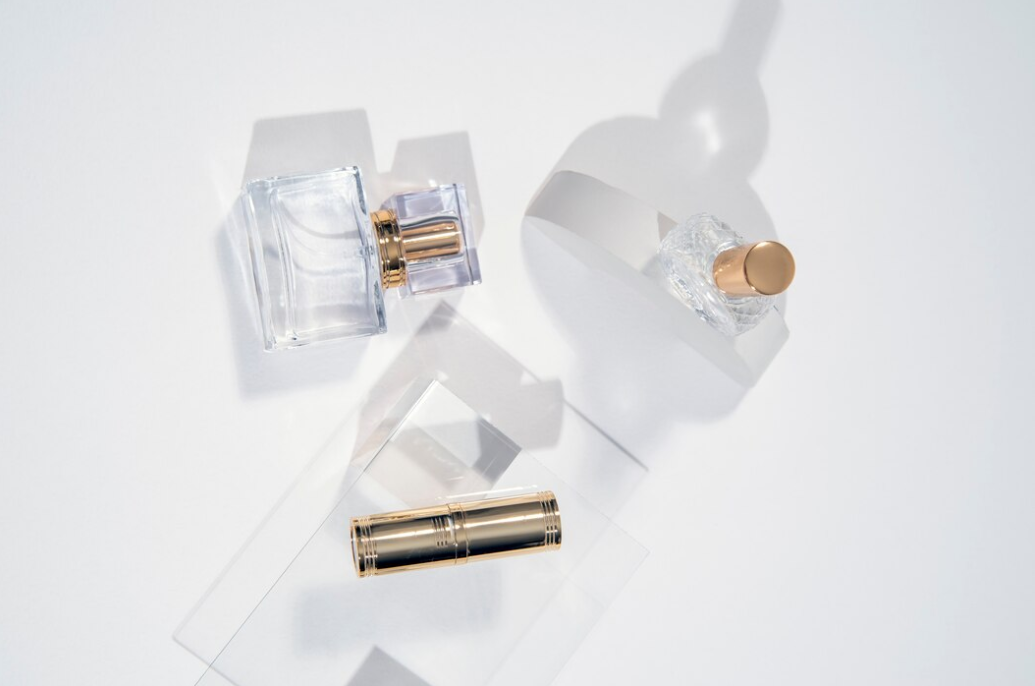 Other elements that are also fundamental in the creation of the packaging are typography and corporate colors: these must be in harmony with the aesthetics of the product and the brand. In the end, what is intended is for users to perceive the perfume as a unique and exclusive product in the market.
6. Establish Marketing Strategies and Distribution Channels
Launching a new product on the market can seem like a complicated task, but with a proper marketing strategy, this process can be much simpler and faster. Marketing strategy and distribution channels are fundamental pillars when launching a perfume brand.
These are some steps you can implement to start with the marketing strategy that helps you take off your products:
– Develop a strategy that serves to identify your target audience.
– Conduct market research to know the tastes and preferences about perfumes of consumers.
– Create a value proposition that highlights the distinctive features of your products compared to the competition.
– Establish a solid online presence on social networks: communicate with your followers, post quality content regularly, and offer a transparent image of your company and products.
These tactics can be put into practice and you can check for yourself how they work. Regarding distribution channels, you can start by selling your perfumes through your online portal, which is a comfortable and practical way for consumers to obtain your products. Also, you can seek alliances with luxury retail stores or boutiques to gain greater visibility and access to new customers.
In conclusion, your marketing strategy must focus on establishing a strong connection with your target audience, while distribution channels must ensure broad coverage and accessibility of your products to the consumer.
7. Evolution and Adaptation in the Perfume Industry
Once you have defined the essence of your brand and your product, you must be informed about the latest trends and changes in the world of perfumes. Because, when it comes to entrepreneurship, evolution and continuous adaptation are imperative for long-term success.
You can conduct surveys, sales analysis, and collect data to identify which areas need improvement and which are emerging opportunities. We recommend being very attentive to market innovations and new movements of your competitors: this will give you clues about what works and what does not in the perfume industry.
Even so, at MS Laboratories we are aware of the needs of our clients and consumers, being informed about the most novel and attractive formulas to elaborate in the perfume industry. Trust our laboratory, we take care of manufacturing perfumes for third parties, offering maximum quality in results and services.